Working Together
One of our main goals is to work closely with independent book and comic shops. We believe that by supporting each other, by working together, we can help the industry grow and diversify, and all of us – customers, shops, and creators – can benefit.
In the past we've provided colour previews of our books to shops to distribute to their customers for free, as well as posters and other POS material, plus exclusive 'branded' prints and bookplates.
If you're a retailer interested in working with us, please contact retail [at] improperbooks [dot] com for more information.
Diamond Comic Distributors
Our following books can be ordered via Diamond:
Briar
By Benjamin Read & Chris Wildgoose
ISBN: 978-1-4733-0850-3 / Diamond Code: OCT151508
RRP: USD $14.99 / CAN $18.99 / GBP £8.99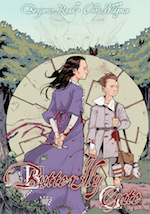 Butterfly Gate
By Benjamin Read & Chris Wildgoose
ISBN: 978-1-4474-4961-4 / Diamond Code: FEB161597
RRP: USD $12.99 / CAD $16.99 / GBP £7.99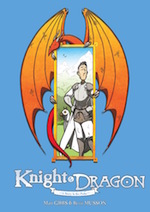 Knight & Dragon
By Matt Gibbs & Bevis Musson
ISBN: 978-1-4733-0851-0 / Diamond Code: FEB171734
RRP: USD $14.99 / CAD $ 18.99 / GBP £8.99
MULP: Sceptre of the Sun
By Matt Gibbs & Sara Dunkerton
Issue #1 ISBN: 978-1-4733-2695-8 / Diamond Code: FEB171731
Issue #2 ISBN: 978-1-4733-2696-5 / Diamond Code: FEB171732
Issue #3 ISBN: 978-1-4733-2697-2 / Diamond Code: FEB171733
RRP: USD $6.99 / CAN $8.99 / GBP £4.99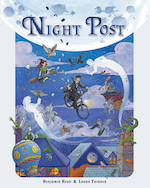 Night Post
By Benjamin Read & Laura Trinder
ISBN: 978-1-4733-2028-4 / Diamond Code: FEB171735
RRP: USD $20.99 / CAN $26.99 / GBP £12.99
Porcelain: A Gothic Fairy Tale (Vol. #1)
By Benjamin Read & Chris Wildgoose
ISBN: 978-1-4474-6131-9 / Diamond Code: OCT151510
RRP: USD $20.99 / CAD $26.99 / GBP £12.99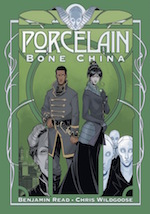 Porcelain: Bone China (Vol. #2)
By Benjamin Read & Chris Wildgoose
ISBN: 978-1-4733-2027-7 / Diamond Code: DEC151417
RRP: USD $22.99 / CAN $29.99 / GBP £14.99
---